Although I am not an authority regarding identification, I have attempted to obtain accurate IDs. A number of Museum researchers have been kind enough to identify species where possible and to them I am extremely thankful. Any feedback on species I have not named,and corrections to my mistakes, would be greatly appreciated. Some of the animals shown cannot be identified to species unless examined by an expert, while a few are as yet unnamed. I have not even tried to identify the Sponges and Feather Stars!

The animals shown above were found either stranded, intertidally or at depths between 1 to 6 metres while snorkelling. I must point out that some of these animals are not commonly found in this region. Some I have seen only once or twice in the time that I have been looking. The shells pictured were all dead collected over many years and before this area was declared a marine park.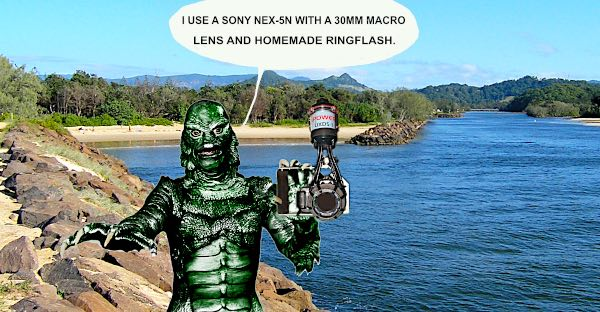 (Years of surfing and snorkelling have taken a heavy toll on my appearance!)
Underwater I began by using an Olympus C-7070 with a homemade strobe and slave (Lack of funds!!) I am now using a Sony NEX-5N with a Sony E30mm Macro lens and Ultramax UXDS-1 strobe on a homemade Ringflash (still lacking funds!). Above water I use a Canon 550D, with Canon MP-E 65 Macro and Sigma 70mm DG Macro lenses and Canon Macro Twin Lite.
There are many great dive sites on the web with fantastic photography but for those of us who don't use tanks, a lot of the animals shown are beyond our range. The intertidal zone and a few metres deeper is not as well covered so this site might help to fill that gap and be of some interest.